On March 8, 2023, Professor Haolan Xu of the University of South Australia, Professor Yingying Zhang of Tsinghua University and Associate Professor Yu Li of Shenzhen University of Technology hosted a new journal at Tsinghua UniversityNano Research Energy (https://www.sciopen.com/article/10.26599/NRE.2023.9120062published a recent review titled "Recent strategies for constructing efficient interfacial solar evaporation systems."
Developments in recent yearsInterface photothermal evaporation (ISE) is a desalination technology with extremely high energy conversion efficiency and environmental friendliness. This technology promises to easeGlobal freshwater shortagesproblem. So far, many new photothermal materials and evaporators with efficient solar thermal conversion efficiency have been developed, prepared and applied to ISE. With reasonable design, photothermal evaporators can achieve excellenceEnergy management, thereby reducing energy loss and extracting additional energy from the environment, effectively using and recovering energy in the system to improve photothermal evaporation efficiency and freshwater production. In addition to this, by introducingMolecular engineeringRegulating the state of the water and thus reducing the enthalpy of evaporation has also proven to be a very effective strategy for improving ISE.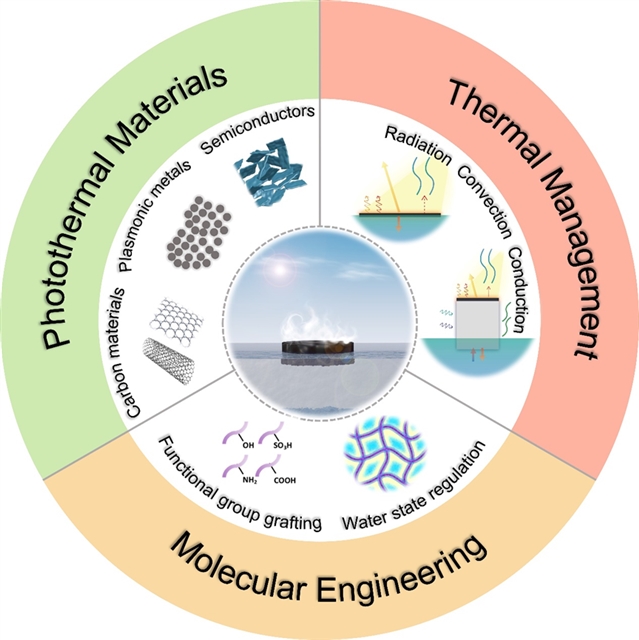 Figure 1. Schematic diagram of constructing an efficient interface photothermal evaporation strategy.
In view of this, the University of South AustraliaXu HaolanProfessor, Tsinghua UniversityZhang YingyingProfessor and Shenzhen University of TechnologyResidual profitAssociate Professor inNano Research EnergyA recent review entitled "Recent strategies for constructing efficient interfacial solar evaporation systems" was published to summarize and look aheadHow to design and prepare efficient photothermal evaporation systems。 The article begins with a systematic summary ofImprove actual photothermal evaporation performancepathways; The two-dimensional and three-dimensional evaporation systems in the evaporation process at the photothermal interface were analyzed and comparedEnergy relationship, and pointed out the main differences. On this basis, the two-dimensional and three-dimensional evaporators and evaporation systems are sorted outDesign ideasandEnergy management strategies。 The review also specifically summarizes the main strategies and methods for reducing the enthalpy of evaporation in water. Finally the author is interested in the existingEvaporation systemandEvaporator designThis paper summarizes and looks forward to the future research direction in this field and the problems that need to be solved for applications, which provides valuable guidance for building high-performance ISE and realizing practical applications.
Paper Information:
Wang Y, Hu J, Yu L, et al. Recent strategies for constructing efficient interfacial solar evaporation systems. Nano Research Energy, 2023, https://doi.org/10.26599/NRE.2023.9120062
DOI:10.26599/NRE.2023.9120062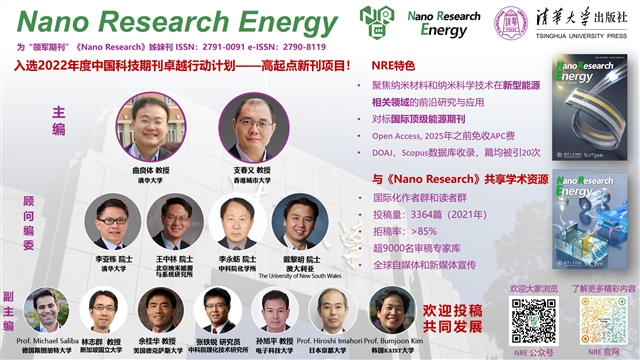 Nano Research Energy is a companion journal of Nano Research, (ISSN: 2791-0091; e-ISSN: 2790-8119; Official Website: https://www.sciopen.com/journal/2790-8119Founded in June 2022, Professor Qu Liangti of Tsinghua University and Professor Chunyi Zhi of City University of Hong Kong serve as editors-in-chief.Nano Research EnergyIt is an international multidisciplinary and English-based open access journal, focusing on the cutting-edge research and application of nanomaterials and nanoscience and technology in new energy-related fields, benchmarking against top international energy journals, and committed to publishing high-level original research and review papers, which has been selected2022 China Science and Technology Journals Excellence Action Plan – High Starting Point New Journal Project。 APC fees will be waived until 2025, and teachers are welcome to submit their papers.
To submit, please contact:
NanoResearchEnergy@tup.tsinghua.edu.cn
Special statement: This article is reproduced only for the need to disseminate information, and does not mean to represent the views of this website or confirm the authenticity of its content; If other media, websites or individuals reprint and use from this website, they must retain the "source" indicated on this website and bear their own legal responsibilities such as copyright; If the author does not wish to be reprinted or contact the reprint fee, please contact us.
---
What you should know:
We (universe3000.com) translate, organize, and publishe this article for the purpose of transmitting information. It does not mean that we agree with its views, nor does it mean we own the relevant copyright. we will indicate the original source for those related reprinted content,. If it infringes your copyright, please contact us to delete it.
Some articles are translated by Bing or Google, Please bear with us if there are errors that lead to unsatisfactory reading. If you have anything to say to us, please submit it here. Thank you very much!
Source link