June 1, 2022, Beijing Institute of Nanoenergy and Systems, Chinese Academy of SciencesWang ZhonglinAcademicians andDong KaiResearchers in the new journal of High Starting Point hosted by Tsinghua UniversityNano Research EnergyPublished the latest research results entitled "Wearable Energy Harvesting-Storage Hybrid Textiles as On-Body Self-Charging Power Systems".
Wearable electronics's rapid development requires its energy supply to be flexible, wearable, integrable and sustainable. However, some energy supply units cannot meet these requirements at the same time, and energy storage units also have capacity constraints and flexibility problems, so the development is sustainableWearable self-charging power supplyCrucial.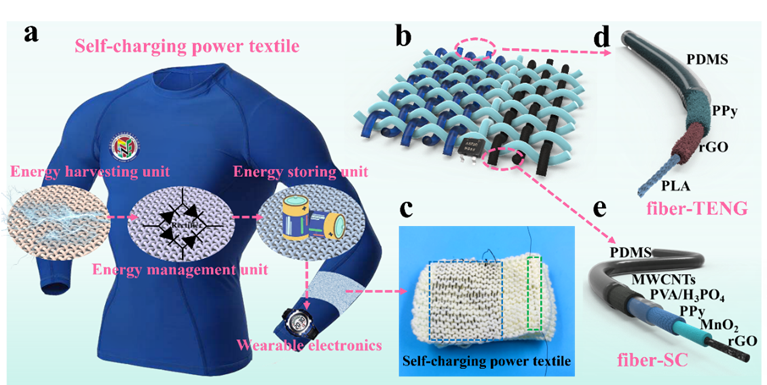 Figure 1. Application prospects and schematics of self-charging power supply textiles. (a) Application prospects for self-charging power textiles for wearable electronic devices containing energy harvesting, management and storage units. (b) Schematic diagram of self-charging power source textiles. (c) Photographs of self-charging power source textiles. (d) Schematic diagram of coaxial fiber-TENG (e) Schematic diagram of coaxial fiber-SC.
In response to the above problems, Dong Kai's research team reported oneWearable sustainable energy harvesting-storage hybrid self-charging power source textiles。 The power textile includes a coaxial fibrous polylactic acid/reduced graphene oxide/polypyrrole (PLA-RGO-PPy) friction nanogenerator (fiber-TENG), which can harvest low-frequency and irregular energy during human movement as a power generation unit, and a novel coaxial fibrous supercapacitor (fiber-SC) as an energy storage unit by functionalizing the wet-spun graphene oxide fiber. The fiber-TENG is flexible, weavable, wearable, and can be adapted for integration with a variety of portable electronics. Coaxial fiber-SC hasHigh volumetric energy densityAnd goodCycle stability。 fiber-TENG and fiber-SC are flexible yarn structures for wearable continuous human movement energy harvesting and storage, as self-charging power systems on the body, withLight weight, easy to prepare, strong portability, wide applicabilityand other features. Integrated power textiles offer an effective pathway to the design of wearable electronics for sustainable work.
Paper Information:
Sheng F, Zhang B, Cheng R, et al. Wearable energy harvesting-storage hybrid textiles as on-body self-charging power systems. Nano Research Energy, 2023, https://doi.org/10.26599/NRE.2023.9120079
DOI:10.26599/NRE.2023.9120079
Nano Research Energy is a companion journal of Nano Research, (ISSN: 2791-0091; e-ISSN: 2790-8119; Official Website: https://www.sciopen.com/journal/2790-8119Founded in June 2022, Professor Qu Liangti of Tsinghua University and Professor Chunyi Zhi of City University of Hong Kong serve as editors-in-chief.Nano Research EnergyIt is an international multidisciplinary and English-based open access journal, focusing on the cutting-edge research and application of nanomaterials and nanoscience and technology in new energy-related fields, benchmarking against top international energy journals, and committed to publishing high-level original research and review papers, which has been selected2022 China Science and Technology Journals Excellence Action Plan – High Starting Point New Journal Project。 APC fees will be waived until 2025, and teachers are welcome to submit their papers.
To submit, please contact:
NanoResearchEnergy@tup.tsinghua.edu.cn
 
Special statement: This article is reproduced only for the need to disseminate information, and does not mean to represent the views of this website or confirm the authenticity of its content; If other media, websites or individuals reprint and use from this website, they must retain the "source" indicated on this website and bear their own legal responsibilities such as copyright; If the author does not wish to be reprinted or contact the reprint fee, please contact us.
---
What you should know:
We (universe3000.com) translate, organize, and publishe this article for the purpose of transmitting information. It does not mean that we agree with its views, nor does it mean we own the relevant copyright. we will indicate the original source for those related reprinted content,. If it infringes your copyright, please contact us to delete it.
Some articles are translated by Bing or Google, Please bear with us if there are errors that lead to unsatisfactory reading. If you have anything to say to us, please submit it here. Thank you very much!
Source link