Recently, the research team of Fan Qiaohui of the Northwest Institute of Eco-Environment and Resources of the Chinese Academy of Sciences has made important progress, they have systematically studied the interaction process and mechanism between mica mineral weathering and radioactive cesium adsorption. This study provides a new theoretical basis for the spatiotemporal evolution, migration and transformation and risk assessment of radioactive pollutants in environmental systems on long-term scales. The results were published in Water Research.
Radioactive cesium is a radioactive contaminant of concern after the Chernobyl and Fukushima nuclear accidents, and mica-like minerals are one of the key factors controlling their environmental geochemical behavior. The team systematically studied the interaction process and mechanism between weathering of mica minerals and radioactive cesium adsorption, and simulated three typical reaction systems, namely, mica minerals weathering before adsorbing cesium, mica minerals adsorbing cesium first and weathering after weathering, and mica mineral weathering and cesium adsorption at the same time. The changes of mica mineral structure and cesium adsorption morphology in different reaction systems were investigated, the intrinsic relationship between mica mineral structure stability and cesium adsorption behavior was clarified, and the microscopic interaction mechanism between mica mineral weathering and cesium adsorption was revealed.
"Both weathering and cesium adsorption can produce significant changes in the structure of mica minerals, but the weathering process of mica has not been considered from a dynamic perspective in previous studies, and the adsorption behavior of cesium during the weathering of mica minerals has not been accurately evaluated." Wang Wei, a special research assistant at the Northwest Research Institute, told China Science News that the results show that the order of weathering and the adsorption of radioactive cesium significantly affect the adsorption capacity, microscopic adsorption morphology and structural stability of mica minerals on mica minerals. However, regardless of the order of weathering and cesium adsorption, weathering can promote the production of more strong affinity sites of mica minerals, increase the proportion of strong adsorption states of radioactive cesium on the surface of mica minerals, and reduce the migration ability of radioactive cesium. The adsorption of radioactive cesium in the interlayered structure of mica minerals can induce different degrees of collapse of the interlaminar structures, which significantly improves the weathering resistance of mica minerals.
This research result further improves the adsorption theory of radioactive cesium on the surface of mica minerals, and provides a theoretical basis for regional radioactive pollution control, prevention and control. Fan Qiaohui's research team said that they will continue to study the cross-media and cross-interface microgeochemical processes of radioactive cesium in complex water-soil-microorganism-plant complex systems, providing more theoretical support for the establishment of more complete radioactive pollution prediction models. (Source: Ye Manshan, China Science News)
Related paper information:https://doi.org/10.1016/j.watres.2023.119918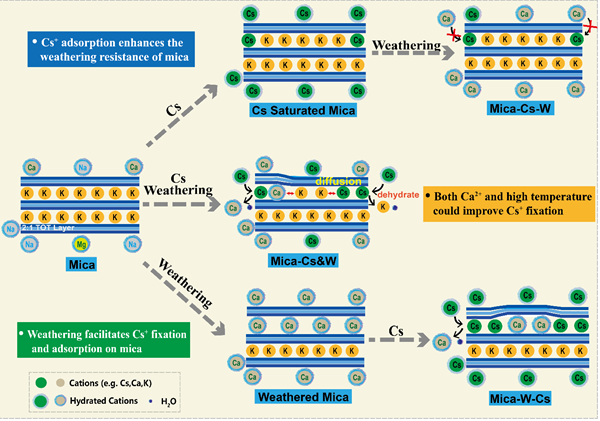 Diagram of the interaction mechanism between mica weathering and Cs adsorption. Photo courtesy of Northwest Institute of Eco-Environmental Resources
---
What you should know:
We (universe3000.com) translate, organize, and publishe this article for the purpose of transmitting information. It does not mean that we agree with its views, nor does it mean we own the relevant copyright. we will indicate the original source for those related reprinted content,. If it infringes your copyright, please contact us to delete it.
Some articles are translated by Bing or Google, Please bear with us if there are errors that lead to unsatisfactory reading. If you have anything to say to us, please submit it here. Thank you very much!
Source link