April 23, 2023, Chongqing UniversityGuo HengyuProfessor, Chongqing Normal UniversityChen JiePh.D., National University of SingaporeWu ChangshengPublished by Professor at Tsinghua UniversityHigh starting point new issueNano Research EnergyThe latest research results entitled "Realizing self-powered mechanical transmission control system via triboelectric nanogenerator and electrorheological fluid composed soft starter" were published.
Soft starterMechanical loads are often used to control motors by limiting impact and to achieve their smooth start-up. Any motor generates a large current when started directly, causing a huge mechanical shock, affecting the motor itself and other equipment connected to the mechanical system. Therefore, it is necessary to manage the starting procedure of the motor, which promotes the development of soft starters, mainly includingElectronic, magnetronandLiquid viscousTechnology. They are all using active control systems to obtain soft start functions, these active control systems are composed of sensing, control elements and power supply, which brings great difficulties to the operability and integration of the system, and seriously limits the diversity of its applications. In addition, the complex control circuit also brings safety hazards and high energy consumption to the soft starter. Therefore, develop oneSelf-powered, highly integrated soft-start systemTo solve energy and control problems, it not only expands new research fields, but also has great practical value.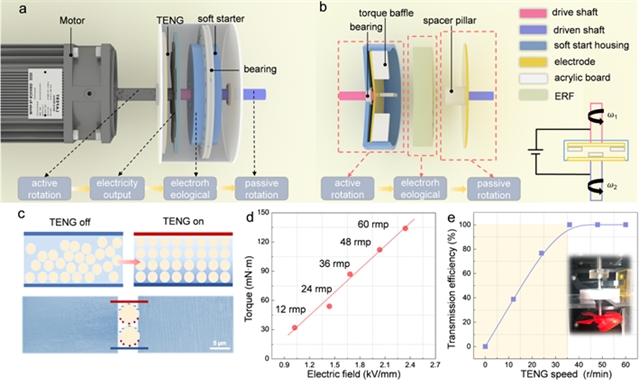 Figure 1. Design and mechanism of a self-powered triboelectric soft starter (TSS). Without the need for complex control elements, sensors and an external power supply, TSS automatically adjusts the torque of the soft starter via the speed of the TENG to provide overload protection for the motor and realize the safe start of the mechanical system.
In response to the above problems,Professor Guo Hengyu's teamA triboelectric soft starter (TSS) coupled by a friction nanogenerator (TENG) and current fluid-changing (ERF) is reported, as shown in Figure 1. The structure, regulation mechanism and performance of TSS were systematically studied and analyzed. Since the electric field loaded on the soft starter depends on the speed of the TENG, the torque and transmission speed can be adjusted according to the speed of the TENG. In this work, this was achieved by adjusting the speed of the TENGFrom 0 to 100%of transmission speed. In addition, with devices without bezels (18.5 mN·mIn contrast, optimizing the baffle structure allows the transmission torque of the TSS to be increased to132.3 mN·m。 Finally, a self-powered mechanical drive system was successfully demonstrated, in which TSS enables smooth start-up of high-speed motors. Conversely, direct actuation can lead to a break in the conveyor belt. This work provides a new strategy for the realization of self-powered and easily adjustable soft-start systems, which is expected to be deeply applied in a wide range of mechanical fields.
Paper Information:
Sun J, Li J, Huang Y, et al. Realizing self-powered mechanical transmission control system via triboelectric nanogenerator and electrorheological fluid composed soft starter. Nano Research Energy, 2023, https://doi.org/10.26599/NRE.2023.9120066
DOI:10.26599/NRE.2023.9120066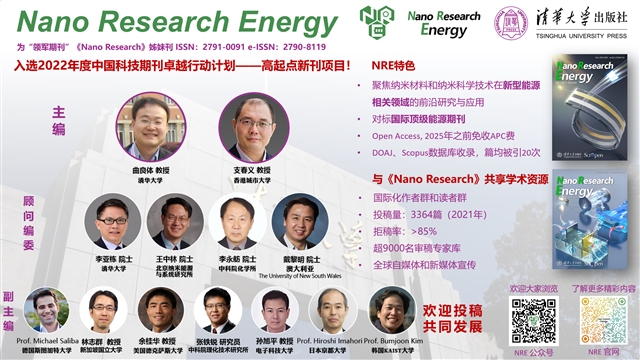 Nano Research Energy is a companion journal of Nano Research, (ISSN: 2791-0091; e-ISSN: 2790-8119; Official Website: https://www.sciopen.com/journal/2790-8119Founded in June 2022, Professor Qu Liangti of Tsinghua University and Professor Chunyi Zhi of City University of Hong Kong serve as editors-in-chief.Nano Research EnergyIt is an international multidisciplinary and English-based open access journal, focusing on the cutting-edge research and application of nanomaterials and nanoscience and technology in new energy-related fields, benchmarking against top international energy journals, and committed to publishing high-level original research and review papers, which has been selected2022 China Science and Technology Journals Excellence Action Plan – High Starting Point New Journal Project。 APC fees will be waived until 2025, and teachers are welcome to submit their papers.
To submit, please contact:
NanoResearchEnergy@tup.tsinghua.edu.cn
Special statement: This article is reproduced only for the need to disseminate information, and does not mean to represent the views of this website or confirm the authenticity of its content; If other media, websites or individuals reprint and use from this website, they must retain the "source" indicated on this website and bear their own legal responsibilities such as copyright; If the author does not wish to be reprinted or contact the reprint fee, please contact us.
---
What you should know:
We (universe3000.com) translate, organize, and publishe this article for the purpose of transmitting information. It does not mean that we agree with its views, nor does it mean we own the relevant copyright. we will indicate the original source for those related reprinted content,. If it infringes your copyright, please contact us to delete it.
Some articles are translated by Bing or Google, Please bear with us if there are errors that lead to unsatisfactory reading. If you have anything to say to us, please submit it here. Thank you very much!
Source link