Recently, the team of Li Xiaoying and Chen Ying of the Department of Endocrinology of Zhongshan Hospital affiliated to Fudan University and the team of Wang Guangyu, professor of Beijing University of Posts and Telecommunications, published an online paper in the top international medical journal "Nature Medicine", proposing for the first time to use the AI system "RL-DITR" based on reinforcement learning algorithm to formulate insulin decision-making strategies, effectively improving the accuracy of insulin treatment regimens for patients with type 2 diabetes. The research results can provide personalized and dynamic diagnosis and treatment plans for patients with type 2 diabetes, assist in the establishment of a hierarchical diagnosis and treatment system, and improve the efficiency of chronic disease management.
One in nine adults has diabetes. Photo courtesy of Zhongshan Hospital
China is a big country with diabetes, and the latest data shows that one in every nine adults has diabetes, of which type 2 diabetes accounts for more than 90% of the total number of diabetes, and nearly 50% of patients need to be treated with insulin injections. How can insulin dosage be adjusted precisely and efficiently for such a large population of diabetics? This is a difficult problem that has long plagued the medical community.
Traditional insulin dose adjustment is based primarily on physician experience and cannot meet the needs of dynamic changes between individuals. Since 2020, the joint team has carried out research on optimizing the insulin treatment regimen of patients with type 2 diabetes based on the AI system "RL-DITR" based on innovative algorithms such as reinforcement learning. The system can predict the optimal drug dose in real time according to the characteristics of the patient's historical data and current physiological condition, according to the differences in insulin response of different patients and the changes in insulin demand during the progression of the disease, and formulate individualized, accurate and dynamic treatment strategies to achieve the goal of blood sugar control.
Researchers are analyzing the data. Photo courtesy of Zhongshan Hospital
The study found that RL-DITR was closer to the judgment of physicians with rich clinical experience compared to other AI models and current clinical standard protocols, with a difference of only 1.2 units compared to their recommended insulin dose, while increasing the patient's glucose time to standard (TIR) by 24.1% without causing adverse consequences such as severe hypoglycemia or ketoacidosis. The decision-making system is convenient to operate and can automatically read and process data in real time, and is expected to be applied to a wider range of application scenarios such as home management of patients in the future, providing important support for refined and intelligent management of diabetes and benefiting the majority of diabetes patients.
Zhongshan Hospital uses emerging information technologies such as "5G, cloud, big data, things, mobile, and intelligence" to empower medical technology innovation, and has been widely used in the diagnosis and treatment of brain diseases, liver tumors, cardiovascular diseases, diabetes, etc., building and improving the hospital data platform and intelligent scientific research platform, and effectively improving the efficiency and quality of scientific research work.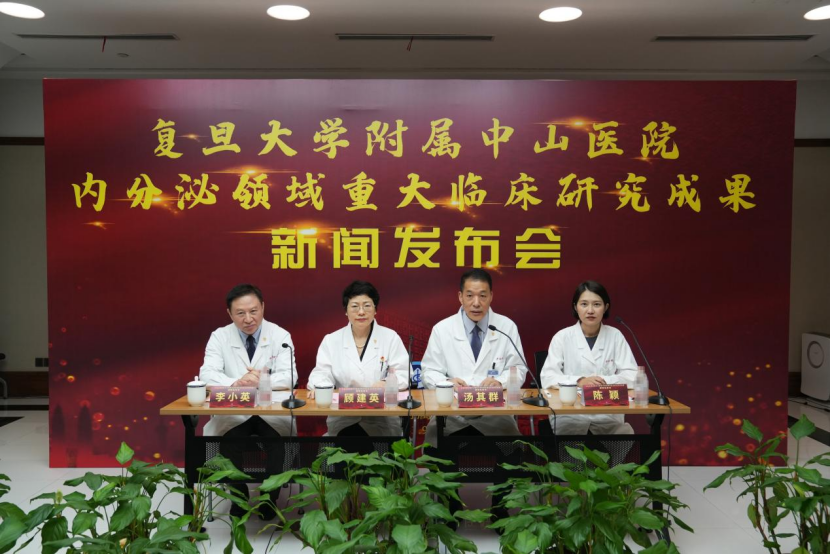 Publish the results. Photo courtesy of Zhongshan Hospital
"Building a digital medical and healthcare world and building a new ecosystem of medical services is Zhongshan Hospital's unremitting pursuit, and we have built the country's first '5G+ digital twin smart medical ecosystem' by deeply integrating new technologies such as 5G, artificial intelligence, big data, and digital twins with high-quality medical resources." On September 15, at the press conference on major clinical research results in the field of endocrinology held in Zhongshan Hospital affiliated to Fudan University, Gu Jianying, Secretary of the Party Committee of Zhongshan Hospital, said that in the future, the full-scenario application of digital twin smart medical will promote the continuous innovation of smart medical related technologies and make it more convenient for the public to see a doctor. Based on the Yangtze River Delta, radiating the whole of China and facing the world, Zhongshan Hospital will continue to build a "new paradigm" of smart hospitals with the support of 5G and help the construction of a healthy China. (Source: China Science News, Zhang Shuanghu, Huang Xin)
Related paper information:https://doi.org/10.1038/s41591-023-02552-9
---
What you should know:
We (universe3000.com) translate, organize, and publishe this article for the purpose of transmitting information. It does not mean that we agree with its views, nor does it mean we own the relevant copyright. we will indicate the original source for those related reprinted content,. If it infringes your copyright, please contact us to delete it.
Some articles are translated by Bing or Google, Please bear with us if there are errors that lead to unsatisfactory reading. If you have anything to say to us, please submit it here. Thank you very much!
Source link