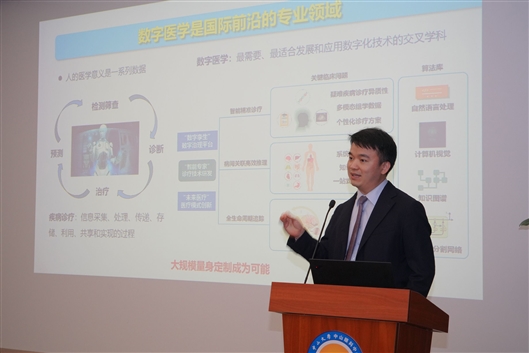 Lin Haotian, deputy director of Zhongshan Eye Center of Sun Yat-sen University, introduced the results. Courtesy of Tai Mengyun
Yang Yahan, postdoctoral fellow of Zhongshan Eye Center of Sun Yat-sen University, introduced the results. Courtesy of Tai Mengyun
Lin Haotian team. Courtesy of Tai Mengyun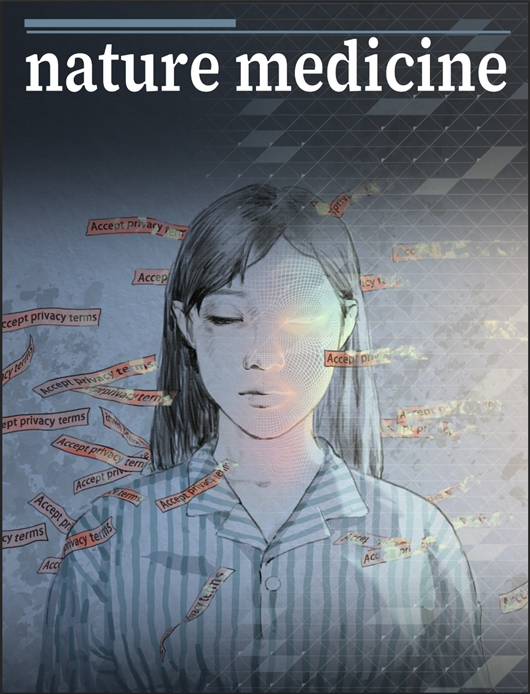 The "Digital Mask" led by Lin Haotian's team makes anonymous medical treatment a reality. Courtesy of Tai Mengyun
Don't want to be photographed with facial information when you see a doctor? Afraid of being recognized in a sick photo? On September 15, Nature Medicine published a new technological achievement led by the team of Professor Lin Haotian, deputy director of the Zhongshan Eye Center of Sun Yat-sen University. Through the cross-empowerment of digital technology and medical technology, they developed the first "Digital Mask" (digital mask), making anonymous medical treatment a reality.
"The new research 'Digital Mask' can address patient concerns." Lin Haotian, head of the project research team and deputy director of the Zhongshan Eye Center of Sun Yat-sen University, told China Science News that the research technology can convert the captured images into 3D forms through three-dimensional modeling, so that the patient's face can automatically generate a virtual "mask" to remove personal identity features, while retaining features for diagnosis, mainly used to diagnose and record the disease.
Breakthrough: The bottleneck of facial image de-identity technology
In recent years, the Zhongshan Eye Center of Sun Yat-sen University has established a smart medical system for the screening and prevention of eye diseases, providing scientific and effective solutions for a series of key clinical problems. However, the contradiction between the identity sensitivity of digital medicine's data dependence on attributes medical data is a pain point and difficulty in the new era, and it is also a hot topic in international academic discussion.
Whether it is traditional Chinese medicine or modern medicine in China, the information characteristics of the face are an important basis for the diagnosis and treatment of clinical diseases, including ophthalmology, hepatobiliary, cardiovascular, nervous system and other organ systems or systemic diseases, which are important medical data and scientific research data.
At the same time, because the face is one of the important non-editable biometric information of the human body, it also has an identity recognition function, so it has extremely high sensitivity, which is the focus of the protection of personal sensitive information in the digital age.
"How to achieve the separation of identity and disease information is the main technical problem we face." Digital Mask's technology is primarily through the three-dimensional reconstruction of the face, which can erase personally identifiable information while retaining signs of disease, and cannot be reverse engineered, thus protecting the non-identification of identity information. Yang Yahan, co-first author of the paper and a postdoctoral fellow at the Zhongshan Eye Center of Sun Yat-sen University, said.
"We have spent more than three years overcoming difficulties through innovative technologies and developing 'Digital Mask' technology, which innovatively solves the contradiction between the protection of personal sensitive information on the patient's eyes and face and the need for disease diagnosis based on eye images." Lin Haotian said that digital medicine is the most needed and most suitable interdisciplinary discipline for the development and application of digital technology.
Lin Haotian said that due to the lack of clear data protection of sensitive personal information and the collection of sensitive medical information standards and normative guidelines in the industry, many patients have concerns about the risk of leakage of sensitive personal information and data. To some extent, these concerns reduce their willingness to provide research data, resulting in a significant increase in the cost of data collection, which places a heavy burden on relevant medical institutions and research teams.
It is understood that the results were jointly completed by Lin Haotian's team, Academician Dai Qionghai and Professor Xu Feng of Tsinghua University, and jointly completed by more than ten top scientific research institutions in the medical field, artificial intelligence field and three-dimensional reconstruction in the Guangdong-Hong Kong-Macao Greater Bay Area and more than 10 domestic and foreign countries. Dr. Yang Yahan of Zhongshan Ophthalmology Center of Sun Yat-sen University, Dr. Junfeng Lv of School of Software of Tsinghua University, and Dr. Ruixin Wang of Zhongshan Ophthalmology Center of Sun Yat-sen University are the co-first authors of the paper.
Diagnosis: The clinical diagnosis of the four eye diseases is consistent
In the new era of digital medicine, patients' medical images and daily image data are important information carriers for clinical research, health records and telemedicine, and are also the basis and products of digitalization, real-time and intelligence of medical services. However, as an important strategic resource, there are still many bottlenecks in the collection, governance and sharing of medical data.
"The diagnosis and treatment process of diseases can be understood as the entire process of information collection, processing, transmission, storage, and utilization and sharing, which is an important foundation for using digital to promote the development of medicine." Lin Haotian pointed out that the protection of personal sensitive information of medical data is an urgent problem to be solved in the industry, and the methods and procedures related to data collection must be updated to protect people from information leakage attacks.
Ocular biometrics are one of the most unique subsets of personal biometric information throughout the facial image and can be used to assist in building robust authentication systems. In addition, the eye is a window to overall health, eye-area features are significantly associated with coronary heart disease, and abnormal topological changes in eye dynamics also indicate problems with parallax and visual cognitive development. Most eye diseases are accompanied by abnormal eyelid and eye movements.
Yang Yahan said that in the new technology of "Digital Mask", the team focused on testing the four most common related eye diseases, including ptosis, nystagmus, strabismus and thyroid-related orbital disease, involving more than a dozen abnormal behavioral phenotypes, such as eyelid retraction, hypermobility or insufficiency, compensated head position, etc. 12 expert professors from the four specialties of Zhongshan Eye Center made disease diagnosis for patients who used "Digital Mask" and did not use "Digital Mask", and the results showed that the diagnosis was consistent and passed the clinical diagnosis requirements.
Studies have shown that in the one-of-six recognition test, the identity recognition rate of traditional personal sensitive information protection technologies (such as "masking") is 91.3%, while the identification rate of patients under the protection of "Digital Mask" is reduced to 27.3%. In addition, this technology is also resistant to model attacks based on color face image recognition.
The reporter learned that "Digital Mask" can achieve the effect of anonymous medical treatment of "recognizing the disease but not knowing the person", and the statistical analysis of the questionnaire survey shows that the use of "Digital Mask" can significantly reduce the information disclosure concerns caused by patients due to facial exposure, and increase their willingness to use digital medical products and share health information.
Lin Haotian said that "Digital Mask" has multiple application scenarios, "for example, in some clinical application scenarios, hospital experts can diagnose diseases through the video we process, in addition, Internet hospitals, telemedicine and other digital medicine-related products have a demand for our technology." (Source: China Science Daily Zhu Hanbin)
Related paper information:https://doi.org/10.1038/s41591-022-01966-1
---
What you should know:
We (universe3000.com) translate, organize, and publishe this article for the purpose of transmitting information. It does not mean that we agree with its views, nor does it mean we own the relevant copyright. we will indicate the original source for those related reprinted content,. If it infringes your copyright, please contact us to delete it.
Some articles are translated by Bing or Google, Please bear with us if there are errors that lead to unsatisfactory reading. If you have anything to say to us, please submit it here. Thank you very much!
Source link