On April 19, the team of Professor Huang Changsheng's Department of Anesthesia Surgery of Xiangya Hospital of Central South University published an original academic paper in Redox Biology, reporting for the first time the role of ferrozotic interneurons γ-aminobutyric acid in the pathogenesis of bone cancer pain. Ding Zhuofeng, attending physician of the Department of Anesthesia Surgery, is the first author of the paper, Huang Changsheng is the corresponding author of the paper, and Xiangya Hospital is the first and only corresponding unit.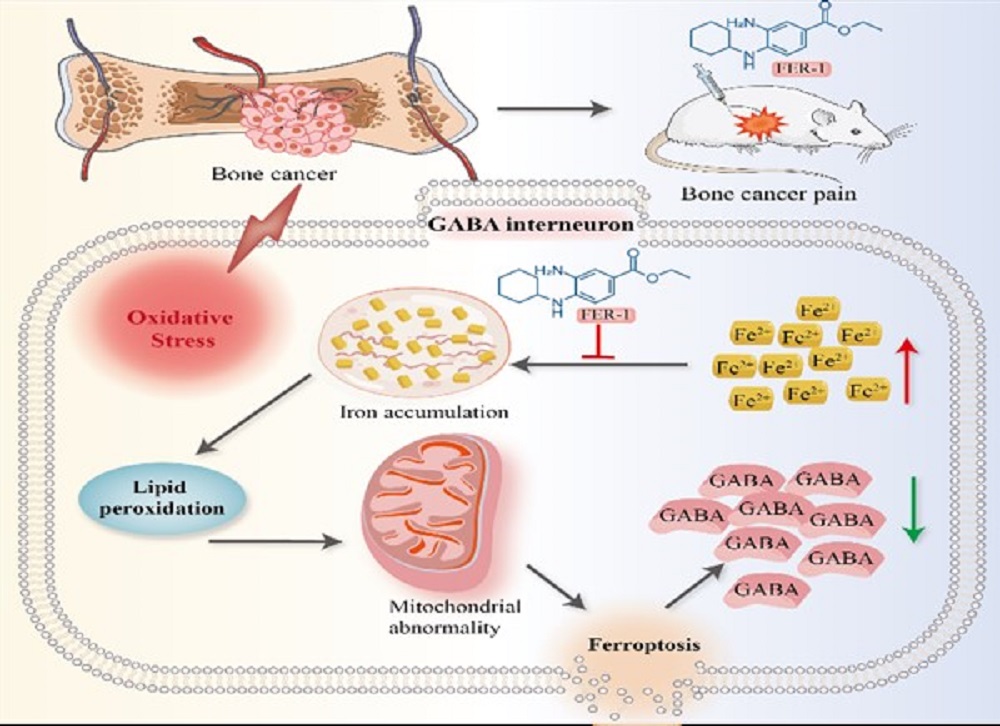 The Xiangya Hospital team found that iron death of spinal cord neurons is involved in the formation of bone cancer pain. Photo courtesy of interviewee
Cancer pain is one of the main clinical symptoms of many patients with intermediate and advanced tumors, and its treatment effect is not good, which seriously affects the quality of life of patients. Malignant tumors such as breast cancer, prostate cancer and lung cancer with the highest clinical incidence are often accompanied by bone metastasis, resulting in severe bone destruction and bone cancer pain.
The main clinical manifestations of bone cancer pain are hyperalgesia and spontaneous pain. γ-aminobutyric acid interneurons, as the main inhibitory interneurons in the dorsal horn of the spinal cord, participate in the production of chronic pain by regulating the balance of excitation and inhibition in the spinal cord. The abnormal deletion of spinal cord interneurons weakens the inhibitory regulation of pain signals in the dorsal horn of the spinal cord, which is an important mechanism leading to hyperalgesia and spontaneous pain in bone cancer.
Iron death is a newly discovered form of non-apoptosis cell death that relies on iron ions in recent years, which is characterized by the accumulation of lipid reactive oxygen species. When the antioxidant capacity of cells decreases, reactive oxygen species accumulate, which in turn causes oxidative death of cells, that is, ferrozois. This study is the first to clarify that spinal interneuron ferrozis can be involved in the production of bone cancer pain in rats by affecting suppressor neurons in the spinal cord, and confirmed that the combined use of iron death inhibitors can enhance the analgesic effect of non-steroidal analgesics in bone cancer pain.
According to reports, this study further enriches the pathogenesis of bone cancer pain and provides an important theoretical basis for exploring the clinical prevention and treatment targets of bone cancer pain. (Source: Wang Haohao, China Science News)
Related paper information:https://doi.org/10.1016/j.redox.2023.102700
---
What you should know:
We (universe3000.com) translate, organize, and publishe this article for the purpose of transmitting information. It does not mean that we agree with its views, nor does it mean we own the relevant copyright. we will indicate the original source for those related reprinted content,. If it infringes your copyright, please contact us to delete it.
Some articles are translated by Bing or Google, Please bear with us if there are errors that lead to unsatisfactory reading. If you have anything to say to us, please submit it here. Thank you very much!
Source link