Stress response has a significant impact on mental health, not only is there a strong association with depression and anxiety symptoms, but it can predict depression and anxiety levels five years later. In addition, there is an association between stress response and physical health problems such as cardiovascular disease, decreased immune system function, digestive problems, sleep disturbances, etc. With the acceleration of social rhythm, the frequency and intensity of individual-reported stress exposure continue to increase, which further highlights the urgency of stress response research. Understanding neural activity patterns under stress and exploring risk factors and protective factors under stress are of great significance for identifying adverse stress response patterns and developing effective early intervention methods.
Recently, the team of Yang Juan, a professor at the Department of Psychology of Southwest University, published a research paper in Psychological Medicine, a top journal of psychology and psychiatry. Using the classic ScanSTRESS stress-induced paradigm, this study explores for the first time the neural mechanisms of endocrine responses under stress from the perspective of neural habituation, as well as protective and risk factors of habituation responses. In addition, the results of this study are validated across samples and paradigms in the MIST stress-induced task.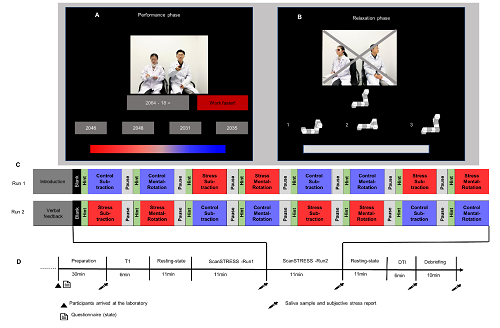 ScanSTRESS experimental conditions and procedures Image source: Southwest University
Overall, this study provides a new perspective for considering neural response patterns under acute stress and provides neurological evidence for motivational dysregulation of passivated stress responses. In addition, this study also builds a bridge between the stress response process and the study of physical and mental health, which is conducive to promoting the neural mechanism of stress response patterns affecting long-term physical and mental health. Finally, this study has good reproducibility and generalizability, and the neural habituation index has cross-paradigm and cross-sample stability, which provides the possibility for subsequent studies to explore the differences of neural activity induced by different paradigms.
Professor Yang Juan of the Department of Psychology of Southwest University is the corresponding author of the paper, and Liu Yadong, a graduate master's student, is the first author of the paper. This research was supported by the National Natural Science Foundation of China and the Science and Technology Innovation 2030 Major Project. (Source: Zhang Qingdan, China Science News)
Related paper information:https://doi.org/10.1017/S0033291723001666
---
What you should know:
We (universe3000.com) translate, organize, and publishe this article for the purpose of transmitting information. It does not mean that we agree with its views, nor does it mean we own the relevant copyright. we will indicate the original source for those related reprinted content,. If it infringes your copyright, please contact us to delete it.
Some articles are translated by Bing or Google, Please bear with us if there are errors that lead to unsatisfactory reading. If you have anything to say to us, please submit it here. Thank you very much!
Source link