Recently, the team of Liu Zhanju, professor of the Tenth People's Hospital affiliated to Tongji University, together with American scholar Huang Hailiang and professor of the Third Affiliated Hospital of Guangzhou Medical University, published a paper in Nature Genetics, expounding the differences between East Asian and European populations in inflammatory bowel disease (IBD)-related gene loci, providing a theoretical basis and guidance for the localization and precision of disease treatment.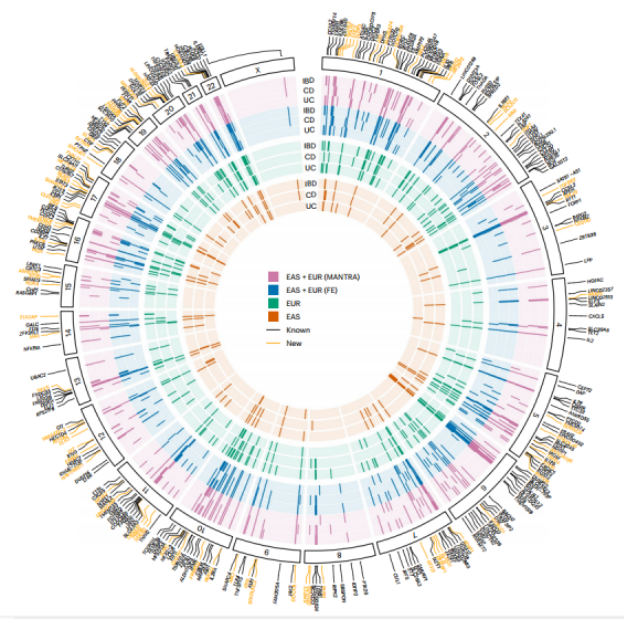 Gene mapping of inflammatory bowel disease in East Asian populations completed. Photo courtesy of interviewee
Inflammatory bowel disease is a group of chronic nonspecific intestinal inflammatory diseases, mainly ulcerative colitis (UC) and Crohn's disease (CD), which often involve the entire mucosa of the digestive tract. Typical symptoms are abdominal pain, diarrhea, mucopurulent bloody stools, intestinal obstruction, etc., and extraintestinal manifestations such as scleritis, oral ulcers, and erythema nodosum. Although much research has been carried out in the past, the pathogenesis of inflammatory bowel disease is not fully understood.
In recent years, the phenotyping of inflammatory bowel disease has become a hot spot in the academic community. Currently, most genetic studies are derived from European population data, with only a few small sample sizes conducted in non-European populations. This severe bias in the population limits the understanding of the biology of inflammatory bowel disease.
Therefore, Liu's team conducted the largest genetic study of inflammatory bowel disease in East Asian populations to date, including 14,393 cases and 15,456 healthy controls. The study found 80 gene loci for inflammatory bowel disease in East Asian populations, 16 of which were new sites that had never been reported. At the same time, 54 loci were first identified in East Asian populations, of which 38 were reported in European populations, indicating that the genetic effects of IBD tend to be consistent overall. By comparing and analyzing relevant data from the International Genetic Association of Inflammatory Bowel Disease, the study expanded the total number of gene loci associated with inflammatory bowel disease to 320.
"Because IBD loci vary in different populations, the ability to use genetic information to predict an individual's risk of disease may also be different." "The study using polygenic risk score assessment found that when using data from both East Asian and European populations, the accuracy of pathological prediction of Crohn's disease and ulcerative colitis was substantially improved, which provided a theoretical basis for localized and precise treatment of inflammatory bowel disease," Liu said. (Source: China Science News, Zhang Shuanghu, Huang Xin)
Related paper information:https://doi.org/10.1038/s41588-023-01384-0
---
What you should know:
We (universe3000.com) translate, organize, and publishe this article for the purpose of transmitting information. It does not mean that we agree with its views, nor does it mean we own the relevant copyright. we will indicate the original source for those related reprinted content,. If it infringes your copyright, please contact us to delete it.
Some articles are translated by Bing or Google, Please bear with us if there are errors that lead to unsatisfactory reading. If you have anything to say to us, please submit it here. Thank you very much!
Source link