As a typical light-absorbing aerosol in the atmosphere, black carbon has a profound impact on global and regional climate. It can alter the solar radiation balance, inhibit boundary layer development, and settle to the surface of ice and snow will reduce its albedo and accelerate glacier melting. However, there is still great uncertainty in calculating its radiative forcing, which mainly stems from the change of the optical properties of black carbon particles by the aging process. Black carbon particulate matter mainly comes from the incomplete combustion of carbon-containing fuels.
Studies have shown that after being released into the atmosphere, freshly emitted black carbon will undergo aging with particulate matter and gaseous pollutants from various sources through processes such as collision, condensation and heterogeneous oxidation, forming a wrapping layer on the surface, resulting in changes in mixed state, morphology, particle size and chemical composition, thereby affecting the physicochemical and optical properties of black carbon.
In order to better understand the properties of black carbon in the urban atmosphere and evaluate the influencing factors of light absorbance, the research group of Wang Qiyuan, a researcher at the Earth Environment Research of the Chinese Academy of Sciences, used high-temporal resolution online instruments such as single-particle black carbon photometer (SP2), photoacoustic aerosol extinction instrument (PAX) and online heavy metal analyzer (Xact625) to continuously monitor atmospheric aerosols in November 2020 at Xi'an high-tech site. The method of combining PMF and linear regression was used to establish the correlation between the black carbon absorbance enhancement factor and the source.
PMF model is a commonly used pollutant source analysis method, which can not only give the pollution source category, but also obtain the exact contribution rate of pollution source, and has been widely used in pollutant source analysis research in recent years.
Their results showed that the average concentration of black carbon aerosol in Xi'an during the observation period was 2.16 μg/m³; There were four main sources of PMF, namely biomass combustion source (38%), coal burning source (29%), transportation source (29%), and dust source (4%). After precipitation, the concentration of thick-wrapped black carbon decreased by up to 83%, while the thin-wrapped black carbon was 39%. As a thick-encased black carbon with a larger particle size, the median mass of the nucleus is smaller than that of the thin-wrapped black carbon particles, which are 141 nm and 176 nm, respectively. Secondly, the absorbance cross-sectional area of black carbon nuclei varied from 3.79 to 5.95 m²/g, and it was significantly correlated with the absorbance cross-sectional area of the whole particles, with a correlation coefficient of 0.58(p < 0.01).
In addition, they also found that the average absorption enhancement factor of black carbon during the observation period was 1.37±0.11, and the source analysis results showed that the contributions of secondary aging, coal combustion, dust, biomass combustion and motor vehicle emissions to the absorbance enhancement factor were 37%, 26%, 15%, 13% and 9%, respectively. Among them, the secondary aging process is the main source of contribution.
The results of the above research were recently published in the journal Science of The Total Environment. (Source: China Science News, Zhang Xingyong, Yan Tao)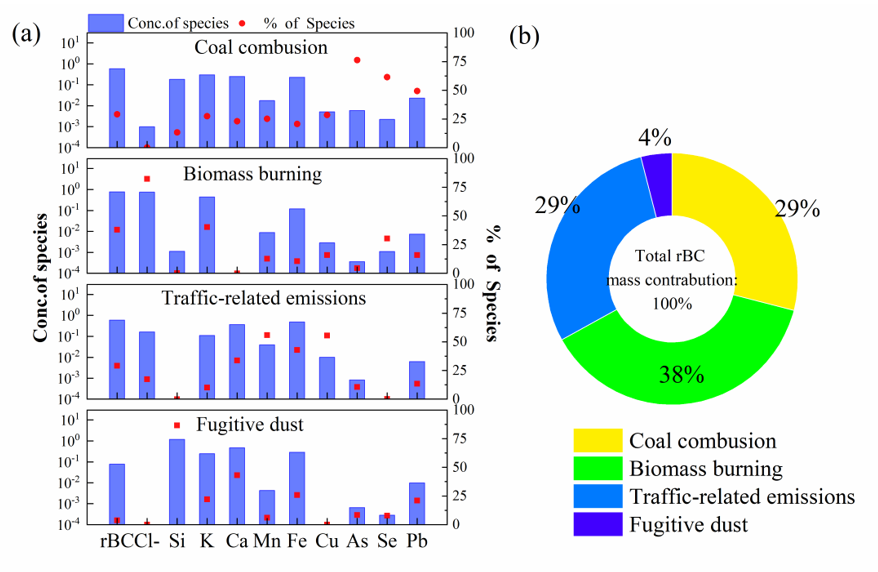 (a) Analytical spectra of black carbon mass concentration sources using PMF; (b) The relative contribution of each source to the total black carbon mass concentration.
(a) Time series of light absorption coefficients for black carbon particulate matter and black carbon nuclei in the atmosphere; (b) Time series of absorbance cross-sectional area (MAC) of black carbon particulate matter and black carbon nuclei in the atmosphere; (c) Relative frequency distribution of the absorbance cross-sectional area (MAC) of black carbon-containing particulate matter in the atmosphere; (d) Relative frequency distribution of the absorbance cross-sectional area (MAC) of black carbon nuclei. Images are courtesy of the authors
Related paper information:https://doi.org/10.1016/j.scitotenv.2023.162997
---
What you should know:
We (universe3000.com) translate, organize, and publishe this article for the purpose of transmitting information. It does not mean that we agree with its views, nor does it mean we own the relevant copyright. we will indicate the original source for those related reprinted content,. If it infringes your copyright, please contact us to delete it.
Some articles are translated by Bing or Google, Please bear with us if there are errors that lead to unsatisfactory reading. If you have anything to say to us, please submit it here. Thank you very much!
Source link